When reading the travel report:
If you click a picture it will be enlarged. The pictures can then be viewed in succession as a slideshow. If you see a link, for example: Rama Tours , click on the link and it will be opened. When referring to a map, the map can be accessed by clicking on the link : map of Indonesia. The clips (images with an arrow) that are included are HD recordings. The clips can be viewed in a separate window that automatically opens when you click on the image with the arrow.
English is not our native language, so we apologize in advance for translation- spelling- and grammar errors.
Day 14: Saturday, September 17,
7.45 hours we stand ready in the lobby of the hotel as agreed. Rufus will escort us to the airport of Wamena. It is still a bit cloudy.
What a nice simple airport anyway! Check in right away. The man at the check-in counter is excited when he sees that Jan-Arend and he are namesakes; Jan! Proudly he shows his badge with indeed the name Jan on it. We go through the luggage scan; we have 4 bottles of drink with us, but that is no objection. Lap top and camera can stay safely in the backpack. No serious safety-control at this airport. Easy for now, but we do not understand at all.
We have to wait for over an hour in the departure hall. It is a coming and going of planes. Unbelievable how many aircraft we have heard in those few days that we are here. But yes, there are no good alternatives. There are also cute little planes .... we wouldn't have made any objections for a flight over the mountains surrounding the Baliem valley witch such u tiny plane!
We walk to our plane. It's an hour flying to Jayapura (see map).The plane is about half full. If we get out, we feel right away that the weather has become a lot warmer.
It's a bit of a wait, but then someone from the Grand Allison hotelarrives to pick us up. The hotel is big, but within very dark. On the one hand, it is luxurious, with marble on the floor and marble walls, on the other hand it is a little bit of past glory with the ceiling showing holes and spots where it has clearly leaked. The suitcases that we had left in the other hotel are delivered here. Fine.
The room is fine. Our room is right next to the swimming pool on the first floor. The sink is leaking, there is only one coffee cup for us together. Few people speak English here. As Ingrid asks for an extra coffee cup someone comes moments later with a towel ... The beds are fine. The swimming pool is nice, and big. There is a kind of bar but the bar is unattended. First we are the only ones at the pool, later on some children arrive.
We take a walk to the city. It is hot! Eventually we go again back to the hotel. We swim some more and have diner in the hotel. It is a large hotel and it is half 7.30 pm. Still we are the only ones having diner outside. The people here usually have their food served in the room. A bit boring, without others people around us. We get a call from the agency that we will be picked up at the hotel the next morning at 9.30 am.
Jan-Arend makes an evening walk through the not very exciting city.
Day 15: Sunday, September 18,
Early wake up . It's warm in the room. Although we have put the air conditioning on 16 degrees Celcius, the temperature in the room in not dropping below 22 degrees Celcius. At 9.30 am we are neatly picked up by the same driver and guide that drove us at our first visit to Jayapura. Everything is well arranged this trip. Fine!
We drive to the Sentani Lake (see map) . The Sentani Lake is an beautiful natural phenomenon just thirty minutes away from Jayapura. The Sentani Lake is used to be an inland sea. It is 96 km long, has nineteen Islands and many inlets. Around the Lake are the Cyclops mountains with green grass areas but also tropical rainforest
We board in a open boat and are speeding away over the water. The Sentani Lake looks nice, and the Sun is shining. It's hot. First we go along the island Asei. We arrive at a place where the shore is dotted with houses on stilts. We sail slowly along the houses. Very nice to see. Daily life of the people here takes place on and by the water. The laundry hangs outside to dry, children play and splashes in the water. Under the houses are fixed fishnets so they can catch fish. The Lake alone, counts more than 33 different species of fish.
One House looks better than the other, but generally the cottages are very simple. Often with lots of wave plate. We return to the small island country Asei. Here we go ashore. Slowly we walk around the whole island, along all the cottages. The small children are so familiar already with the water. They have fun playing together. Of course, here as well a church. It's Sunday, so we hear the people singing during service. There are traditional narrow trunk boats with very special shaped paddles. Pigs, dogs and chickens walk along the waterfront.
The inhabitants of the island are known for their painted tree bark cloth pieces. The works of art are displayed for us. We buy a small one but to be honest we don't really fancy the painted tree barks.
When it is time to sail off again the boatswain turns out to be lying deeply asleep. Despite all attempts it is not possible to wake him up! So another boatswain has to bring us back to shore. There are a few threatening clouds, but it remains dry. Normally, there is also an excursion to the Mac Arthur monument but lately the army has blocked that road so we can't go there. We would also see cave drawings somewhere but when we are at the spot the people that should give permission for visiting are not there now. So we let it go. Not really all that important.
A few days ago during our visit to the Baliem Valley we paid for a lunch that was actually included. We didn't mind, but Rufus found it very annoying (in his paper it was not included). He has contacted the agency and now the agency offers us a free lunch today A very thoughtful manner to resolve a misunderstanding. Very nice. We are taken to the Yougwa restaurant, which is directly on the Lake. The restaurant is well known and listed in the lonely planet Guide.
A very good restaurant and beautifully situated at the waterfront. The food is much and very tasty. It's a hustle and bustle with local people. We see a guy in a canoe sail away and return again. He throws a kind of plates of corrugated sheets in the water. Another guy pops up from the water a bit further away, He collects the same kind of plates from the bottom of the lake. We don't know exactly what they are doing but it seems that there are mussels or oysters to grow against the corrugated sheets. The restaurant also has a huge water tank with a good number of very large fish. Guests can point out which fish they want to eat. Fresher than that is not possible. Really a nice place.
After lunch we go to visit the Loka Budaya Museum. The museum is located next to the large auditorium Universitas Cenderawasih on the main road in Abepura. It's Sunday. Actually the museum is closed but our travel company has arranged that the museum opens specially for us.
Actually we are no real fanatic museum visitors, but this is a very special and nice museum . The museum contains a fascinating range of Papuan artifacts, including the best collection Asmat carvings and dance-devil costumes plus beautiful works of art from several other areas, historical photos and musical instruments.
We are pleasantly surprised by the beautiful, original art that is collected and exhibited. Wicker harnesses, machined Spears and shields, jewelry and beautiful figurines. We get an in-depth explanation. Very successful. There is also a small shop at the museum and ..... also the right key to open the shop. We buy a few nice artifacts. Not antique, but original. A figurine in the shape of a bird cut out of the front of a boat, a betel nut box and some figurines. A treasure for us to take home.
Then it is time once again to go back to the hotel. It was a nice day well spent. Tomorrow we will travel further and fly to Monokwari.
Day 16: Monday, September 19,
At 9 pm we take the shuttle bus from the hotel to the airport. The stairs to the plane counts 5 steps. We sit at the emergency exit; a very spacious place. The plane to Monokwari (see map) is but for 1/3 filled, so we can both take a place at a window.
We fly along the coastline. We have a nice view of the many mini Islands. After an hour we land at Monokwari airport. Not many people leave the plane. More then half of the people in the plane flies through to Sorong. We collect our luggage.
We are neatly retrieved with a large 4 x 4 suv. We are advised first to visit a Department store to buy 2 blankets because it can be very cold in the mountains and the home stay were we will sleep doesn't have blankets. So we do so. After our visit to the store we are dropped off at the Mansinam Hotel. A good hotel. The hotel is located by the sea, with magnificent views of the Mansinam island and the Arfak mountains in the distance. Beautiful room, very comfortable bed and a good functioning air conditioning. Coffee and tea making facilities, and Wi-Fi access on the room again. There is a kind of porch in front of the room with view on the sea. Very pleasant to stay here.
We make a walk direction beach. The coastline is built full. A piece of free beach to walk on is quite difficult to find. We ask therefore several times someone to lead us the way to the "beach" or "sea" , but the people don't understand us! It only provides just a lot of giggles. Amazing how few people speak English here. Eventually we find the beach, and a good place in the shade. It's hot (evening still 31 degrees!). Jan-Arend goes swimming in the sea. You need water shoes here because it remains shallow for a very long time and it's a rocky bottom.
Too bad that also here the people heavily pollute the beach with litter waste. Everything is "available"! Plastic, bags, glass, everyone throws everything just loose on the ground
We return to the hotel. The evening is fallen. Time to get some food. We have diner in the seaside restaurant of the hotel. This proves to be a very pleasant surprise. Much happy bustle. Precious. There is even a band playing live music. Especially Christmas songs by the way! Very good and tasty food. Delicious satay, 100% fresh orange juice, French fries. The restaurant is well filled with Local people. All families with children. A few soldiers are fishing on the waterfront. Very relaxing
If we leave a tip on the table after finishing our diner a staff member is chasing us because they think that we have forgotten the money ... According to our guide there are but about 20 tourists per month that visit Monokwari.
Tomorrow we will be picked up at the hotel at 10 pm. We will go on a multi-day trip into the mountains looking for. .... birds-of-paradise.
Day 17: Tuesday, September 20,
It's raining heavily when we wake up but fortunately the weather improves quickly.
At 10 am we leave with a 4 Wheel drive. Two ladies with a puppy dog take sit in the large open trunk of the car. They get a lift to their village in the mountains. In about two and a half hours till we are at our destination. We are a bit surprised. We thought the ride would be a bit longer and more adventurous. Only the last hour leads us through the mountains. Occasionally we have to wait a while for a road block caused by road works.
We arrive at Papua Lorikeet Guesthouse a simple wooden homestay in the middle of the forest. There is a living room and there are a few guest-/bedrooms. Our room had 2 regular beds, no upper sheets and no electricity. No problem for us. We were informed in advance that i would be a sober accommodation. Along the way a lot of provisions have been taken in! Bread, a big bunch of bananas, lots of candy and cake. No risk taken there; it is for sure much too much for the few days we will be here!
Water is boiled for coffee or tea. Our guide and host is called Hans Mandacan. Around 2 pm we are set off for our first bird watching excursion. Not far from the Guesthouse a bird watching hut is built. Before we are allowed to enter the hut the hut is first sprayed with poison to kill the mosquitoes. Gasping for breath we enter the hut. Outside is a feeding-place constructed for the birds.
Hans says that he will get back to us after two hours. We look at each other; 2 hours here in this hut waiting for birds? We get the giggles. We are no real birders and we did not really imagine this before when we planned the trip! You could say that we should have had to prepare ourselves better Now here we are in a hut to see if there are beautiful little birds come along. Well it is special of course! It takes half an hour before we spot a bird at the feeding-place. It looks a bit like a Blackbird, but it turns out to be a Bird Head Bowerbird. It is not possible to take clear pictures of the Bowerbird; too dark in this forest. The camrecorder of Jan-Arend has a brighter lens. He succeeds to make a video of the bird.
Then Hans puts his head around the corner. We return to the homestay. Our "Birding - baptism" is over!
Nice evening, Hans has cooked for us. Sweet potatoes, noodles and vegetables; He succeeds to create a very tasty nutritious meal using simple and little ingredients.
We get an oil lamp to take with us to the room. . The lamp smells bad and produces soot so that is no success and we put him off. We listen some music in the dark and go to sleep at 7 pm!
Day 18: Wednesday, September 21,
Hard work today. 4.00 am out of bed and 4.30 am start walking. It's not only the early start that makes this walk special. It is still pitch dark. Armed with only a flashlight (and Hans with a machete) we have to find our way through the thick and hilly jungle! It is a rise and fall walk over narrow barricaded paths with wet grass, leaves and tree stumps.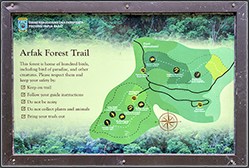 Luckely Hans is an experienced and knowledgeable guide. He guides us safely to yet another bird watching hut . Around 6 pm we are there. Before we enter the hut Hans gives the hut his special anti mosquito treatment again. Fine, but killing for our lungs..In the hut is a kind of bench, but that bench is just too narrow to sit comfortable on. As soon as we have settled ourselves in the hut Hans leaves. He will pick us up again at around 8.15 am.
Our little hardships are more than worth the effort however, when after a not too long time a beautiful male bird of paradise appears on the scene. This is really super special. The bird has a stunning plumage. A particularly green breast and yellow feathers from above, blue legs and a blue curl. Even the inside of his beak is colored bright green. At the sight of such a beautiful specie, everyone will spontaneously become a fanatic birder and so we forget all inconvenience
We have a lot of luck. The male calls a female and ..... he is heard. At one point there are 2 males and one female. One male is really showing off in an attempt to seduce the female! He makes a lot of noise, shows an impressive turn off its feathers and performs a elegant courting dance. We're lucky to witness such a beautiful mating dance, because it is the best you can get on any bird excursion and it doesn't always happen. Jan-Arend has it on video. Ingrid also makes a few nice pictures; but at 3200 iso.
A little after 8.00 am we leave the bird watching hut again and return to the guesthouse. It's a tricky walk again. After arrival we allow ourselves to take some rest. We drink coffee and listen some music laying on bed; It's still very early. Hans makes a lunch with lentils. It tastes fine again.
Around 01.00 pm we walk once more to the hut where we were yesterday afternoon. The original plan is that Hans will collect us here again after 2 hours. After more than one hour still not a bird in sight. We decide to walk back ourselves to the guesthouse. It is quite near. The encounter this morning with the courting paridise birds was reward enough for us.
We know we don't really have the mentality and the patience of a birder but we have fully enjoyed the birds this morning. If you really are a true fanatic birder this is a perfect place.
Hans is a fine host. The House is basic but clean. It is not necessary to bring blankets. There are blankets. Would have been nice if we had bring our own sleeping bag. Everything is somewhat clammy.
We actually thought the excursion would exist in a 3 days adventure drive with a 4 wheel drive through the mountains with occasionally some moments of bird watching, but that turned out to be a misunderstanding. The 4 x 4 drive brings you with guest-passengers up in 2 hours. Then the car returns to Monokwari and picks you up again at the end of your stay at the guesthouse. For what you get this 3 day trip is quite expensive.
These were certainly not lost days, but if we had we know it in advance we would have made another choice. Then we would rather had chosen to bring a visit to the peoples living in tree houses.
Day 19: Thursday, september, 22
Jan-Arend makes another walking/birding excursion with Hans. It is an early start in the dark again. Ingrid takes the opportunity to stay a little longer in bed. She is not in the mood for yet another steep climb very early in the dark again. The walk is spectacular. Really toiling in the jungle in the mountains. Hans leads the way and truncates a way with his cuff machete. But ... no special paradise bird show this time unfortunately.
Around 8.30 the men are back in the guesthouse
The weather is beautiful today. The 4WD will arrive at the quest house at 12 noon to bring us back to Monokwari. So we still have some hours to spent here. No problem with that. The garden is a small paradise with countless flowers and butterflies. Lovely and unique to relax in the tranquility of the pure nature.
Hans has prepared a lunch for us. Around 12.30 pm we leave. We start with a visit to Kwau, the home village of Hans. We look around in this very Christian village.
Little houses with beautiful small gardens on both sides of an unpaved road that is more like a lawn . There are a few people and some goods in the cargo compartment of the pickup. The people need a lift direction Monokwari and the goods will be delivered on different addresses along the way.
Finally we arrive back at our hotel in Monokwari. Luxury again. No room with sea view this time, but everything else is in order. We have a nice cool room, balcony with table and chairs, and downstairs a restaurant by the sea where they serve excellent food in a cozy atmosphere.